Village Walking Tour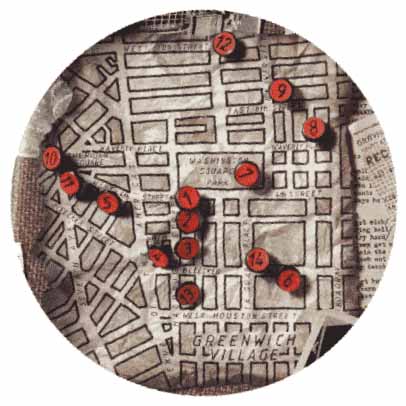 MAPS & LEGENDS: POSITIVELY 4TH STREET REVISITED
Q Magazine -- May 1995
In January 1961, 19-year old Bob Dylan stepped on to the streets of New York for the first time. He headed straight for Greenwich Village's thriving folk scene. The rest, John Bauldie explains, is history.

"New York was a dream... It was a dream of the cosmopolitan riches of the mind. It was a great place for me to learn and to meet others who were on similar journeys." (Bob Dylan, speaking on Westwood One Radio, 1985)

1. CAFE WHA? (115 MacDougal Street)


When Dylan first arrived in New York City on Tuesday, January 24,1961, he caught a subway down to Greenwich Village and blew into the Cafe Wha? in a flurry of snowflakes. It was hootenanny night and the place was half-empty. Dylan asked the owner, Manny Roth, if he could perform -- and he did, playing a short set of Woody Guthrie songs. In the following weeks, Dylan would appear occasionally at the coffee-house, playing harmonica ("blowin' my lungs out for a dollar a day" is how he put it in his early song, Talkin' New York) behind Mark Spoelstra and Fred Neil, writer of Dolphins and Everybody's Talkin'.

2. THE FOLKLORE CENTER (110 MacDougal Street)


The central day-to-day meeting place for almost everyone connected with the emergent folk scene had been founded in March 1957 by Izzy Young, a loud, disorganised, big-hearted folk enthusiast. Dylan spent many hours here, looking at records, music, trying out instruments, meeting people and, later, writing songs in the back room on Izzy Young's old typewriter One of them, the unreleased Talkin' Folklore Center, was specially composed on March 19,1962 as a fund-raiser. Izzy Young promoted Dylan's first professional concert, at the Carnegie Chapter Hall on November 4,1961. The show was attended by only 52 people. Today, Young runs a Folklore Center based in Stockholm.

3. THE GASLIGHT CAFE and THE KETTLE OF FISH (116 MacDougal Street)


One of the young Dylan's favourite haunts, The Gaslight was originally a "basket house", where performers were paid the proceeds of a passed around basket. Opened in 1958 by John Mitchell, a wild-looking Bohemian and legendary pioneer of Greenwich Village coffee-houses, the dark, steamy, subterranean Gaslight had showcased beat poets Allen Ginsberg and Gregory Corso but became a folk club when Sam Hood took it over. Dylan premiered Masters Of War and many other songs here. The Kettle Of Fish bar, above stairs, was also a regular drinking hang- out.

4. THE COMMONS, later renamed THE FAT BLACK PUSSYCAT (MacDougal Street, near Minetta Lane)


Dylan played at The Commons, a sprawling basement club, within a week of his arrival in New York, but the venue's historical importance was to be confirmed in April 1962, as David Blue recalled: "I remember one afternoon we were sitting in The Fat Black Pussycat drinking coffee, and Dylan started writing a song. He had his guitar and he was scribbling away, writing on a piece of paper. And he gave me his guitar and asked me to play various chords, while he worked on the words. When he finished it, we went over to Folk City and Bob played it for Gil Turner, who thought it was fantastic. And then Gil got up on the stage and played it for the audience, while Bob stood in the shadows at the bar. The song was Blowin' In The Wind."

5. GERDE'S FOLK CITY (71 West Fourth Street)


Opened as a coffee-house by a likeable Italian called Mike Porco in 1952, this smartly run establishment became a folk club in 1960 and their Monday night hootenanny showcases became the most important on the Greenwich Village scene. Almost everyone played there, including Dylan who made his first "hoot" appearance on Monday, February 13,1961 and played his first professional gig on April 11, supporting John Lee Hooker. It was his headlining appearance at Gerde's on September 26 that was reviewed in the New York Times by Robert Shelton, after which Dylan's reputation was made.

6. ART D. LUGOFF'S VILLAGE GATE (160 Bleecker Street, at Thompson)


Dylan wrote A Hard Rain's A-Gonna Fall in September 1962 in the basement of the Village Gate, in a small apartment occupied by Chip Monck, later to become one of the most sought-after lighting directors in rock music.

7. WASHINGTON SQUARE PARK


Folksingers had been gathering around the fountain here on Sunday afternoons since the end of the Second World War and Dylan found the place delightful: "Washington Square was a place where people you knew or met congregated every Sunday, and it was like a world of music. . . bongo drums, conga drums, saxophone players, xylophone players, drummers of all nations and nationalities, poets who would rant and rave from the statues. You know, those things don't happen any more, but back then, that was what was happening. It was all street. . ."

8. HOTEL EARLE (163 Waverly Place)


After spending time sleeping on floors and taking whatever hospitality was offered to him by concerned mother substitutes and occasional girlfriends, Dylan lived here (it's since been renamed the Washington Square Hotel) for a short while, in room 305, as did Ramblin' Jack Elliott (room 312) and Red Indian folksinger Peter LaFarge (room 306), an unpaid bodyguard and composer of The Ballad Of Ira Hayes, famously recorded by Johnny Cash and by Dylan himself. LaFarge was later to commit suicide in Liam Clancy's bathtub, in an apartment on Sullivan Street.

9. CEDAR STREET TAVERN (24 University Place at 8th Street)


In the early '50s, this bar had been the favourite hang-out of artists, and regulars included Jackson Pollock, Willem de Kooning and Mark Rothko. Subsequently, the Village daubers were joined by the Village scribblers Allen Ginsberg, Jack Kerouac and Gregory Corso, inevitably, and in the '60s The Fugs' Tuli Kupferberg and musician/composer David Amram. Dylan was an occasional visitor.

10. ONE SHERIDAN SQUARE

Formerly the Cafe Society Downtown, above this little theatre lived the Rotolos, Mary, a widow, and her two daughters, Carla and 17-year- old Suze (pronounced "Suzy"). Suze had become an enthusiastic Dylan follower after seeing him play at a folk music day at the Riverside Church on July 29,1961. Above them, on the fourth floor, lived Miki Isaacson, whose living room was a permanent crash pad for folk singers, including Dylan, who was pleased to be staying near Suze, and the two soon became an item. Unfortunately the love affair was doomed. Suze's leaving Dylan in May 1962 gave him heartache and some of his greatest early love songs - Tomorrow Is A Long Time, Don't Think Twice, It's All Right and subsequent family squabbles with the Rotolos are chillingly, if naively, documented on Ballad In Plain D, on Another Side Of Bob Dylan.

11. 161 WEST FOURTH STREET


In mid-December,1961, shortly after recording his first album for Columbia, Dylan moved into his first rented apartment, a tiny, scruffy place above Bruno's Spaghetti Shop, and persuaded his girlfriend, Suze Rotolo, to move in with him. It was in the middle of West Fourth Street, in February 1963,that Dylan and Suze, together again after seven months' separation, were photographed in the snow for the cover of The Freewheelin' Bob Dylan by Columbia staff photographer Don Hunstein, who recalled in the Dylan magazine The Telegraph: "We went down to Dylan's place on Fourth Street, just off Sixth Avenue, right in the heart of the Village. It was winter, dirty snow on the ground . . . Well, I can't tell you why I did it, but I said, Just walk up and down the street. There wasn't very much thought to it. It was late afternoon you can tell that the sun was low behind them. It must have been pretty uncomfortable, out there in the slush."

When several years later, Dylan had transformed himself from protest singer to pop star, and suffered a bitter backlash from the old folkies who'd championed him in his early Village days, he used Fourth Street as a symbol for the scene that he'd left behind, and wrote a caustic put-down of those who felt he'd betrayed them - Positively Fourth Street.

...indeed there should be a correction since Scott A. Robbins who was born on Jones Street and still lives there told me that Bob and Suze were photographed walking down Jones Street toward West 4th Street.

12. THE WHITE HORSE TAVERN (567 Hudson Street, at West 11 Street)


More famous for the other Dylan, Dylan Thomas, who made this pub his second home in the early 1950s, and who drank his way to oblivion at its bar Bob Dylan was a regular here in 1961, often going over after midnight, when Gerde's closed, with Gil Turner and Bob Shelton, to watch The Clancy Brothers, from whom Dylan learned many Irish ballads and folk songs, several of which he would subsequently adapt or, indeed, re-write, and claim as his own.

13. 94 MACDOUGAL STREET


Dylan bought this townhouse in late 1969 and moved back to the city for the first time in four or five years, the intervening time having been spent mostly in Woodstock, upstate New York, where he lived quietly with his wife Sara and their young family. The move back to the Village was, Dylan later admitted, "a stupid thing to do...

The worst times of my life were when I tried to find something in the past. Like when I went back to New York for the second time. I didn't know what to do. Everything had changed." Perhaps not uncoincidentally, it was at this time that Dylan found himself constantly hassled by the infamous Dylanologist A.J. Weberman and it was from outside this very house that Weberman made off with the Dylan family's garbage, which was later scrupulously examined for buried treasure back at the Dylan Archive at 6 Bleecker Street.

14. THE OTHER END (147 Bleecker Street at La Guardia Place)


Formerly The Bitter End, when Dylan began hanging out in the Village again, in the summer of 1975, he played here with Patti Smith, Ramblin' Jack Elliott and Bobby Neuwirth, performing songs such as Abandoned Love, Joey and Isis for the first time. His rekindled enthusiasm and his interaction with other musicians brought about the idea of a travelling road show of performers and poets, playing small places, unannounced, throughout the USA, possibly for ever. The idea became reality with the Rolling Thunder Revue, which hit the road in New England in October,1975. The first part of that magical musical adventure was commemorated in the four-hour movie, Renaldo & Clara.