If you're tired of seeing the same old pictures of Bob Dylan in every book and magazine you pick up, then you will find this book makes a refreshing change. With almost 200 photographs in colour and black and white, most of which have not been published before anywhere in the world, this book is a wonderful photographic record of Bob Dylan in concert, covering a major part of his career on stage.

The photos used in this book have been carefully selected from over 5000 pictures taken at over 150 concerts in 21 different contries, an impressive achievement, considering the strict security at most shows, and Dylan's known dislike of being photographed. From large festival in Europe to the intimate setting of the famous Supper Club shows in New York CIty, this will give you over 12 years of photographs of Dylan in concert, including shots of him together on stage with guests and friends such as Van Morrison, Ron Wood, Tom Petty, Al Kooper, Santana, Roger McGuinn, Dave Steward, Elvis Costello, Carole King, Chrissie Hynde, and the last photos of Bob Dylan with Jerry Garcia from june 1995.

The prices are:

UK: L.23 (sent 1st class)

Europe: L.25 (sent airmail) (if paying by eurocheque, put bank card number on back of cheque)

USA/rest of teh world $45 cash (sent airmail) (UK banks charge L.5 to cash foreign cheque so please send bank notes, L30 or $45 or an Internationa Money Order in L sterling)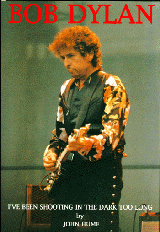 The book has 112 pages (16 in full colour) and is A4 size with a full colour cover. It has been printed on high quality art paper, making this a superior quality production.
It's a limited edition of only 600 copies!
Send Cheques/P.O./cash and of course your name and address to:
John Hume
6 Oaklands
Cradley
Malvern
Worcestershire
England WR13 5LA