What's new? check the ISIS hotline too
---
MESSAGE:
I remind you that I am always looking for new stuff! So if you can help me ...do so! ;-)
---
16 May 1998
Another interview. This time from 22 Sept 1966 Austin Texas. New setlists added to the tour section (summer'98)

13 May 1998
Another interview from 1965: 26 Nov 1965 Chicago Interviewer : Joseph Haas Published in Chicago Daily News 27 Nov 1965

11 May 1998
A new interview: August 1965, Grossman's office (New York) by Nora Ephron and Susan Edmiston. Thanks to Kaliph and Rob.

10 May 1998
New ISIS issue, two interestig articles from the magazine: Review of BOBLINKS website and Review of Cold Irons Bound by Nick Train

8 May 1998
Tour dates added

5 April 1998
Italian convention 1998. Check the Italian affairs section.

31 March 1998
Tour setlists.

18 March 1998
New ISIS issue. New tour dates and a new link to Foggy Ruins.

27 February 1998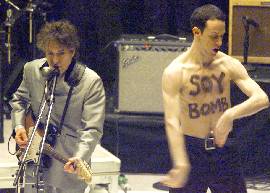 Our man won 3 Grammys! Album of the year, best male rock vocal performance and best contemporary folk album. He paid homage to Buddy Holly, saying he heard Holly play when he was 16. "He looked at me and I just have some kind of feeling that he was ... with us all the time we were making this record in some kind of way." AP wrote: "His performance of the song, "Love Sick," was interrupted by a shirtless dancer with the words "Soy Bomb" painted on his chest. Bob's only response: quizzically raised eyebrows."
21 February 1998
A new picture from the Springfield show (02-02-98) in the picture section. Updated ongoing tour setlists.
8 February 1998
Updated Bob Dylan's Official rarities by Alan Fraser in the articles section
26 January 1998
After two weeks out of town I am back and I've added a new drawing made by Diana Lopez in the gallery and I've updated the tour section.
15 January 1998
New ISIS issue. New tour dates.
10 January 1998
Bob Dylan was nominated for three Grammy awards this week: Album of the Year, Best Male Rock Vocal Performance (for Cold Irons Bound), and Best Contemporary Folk Album.
Back to the What's New page